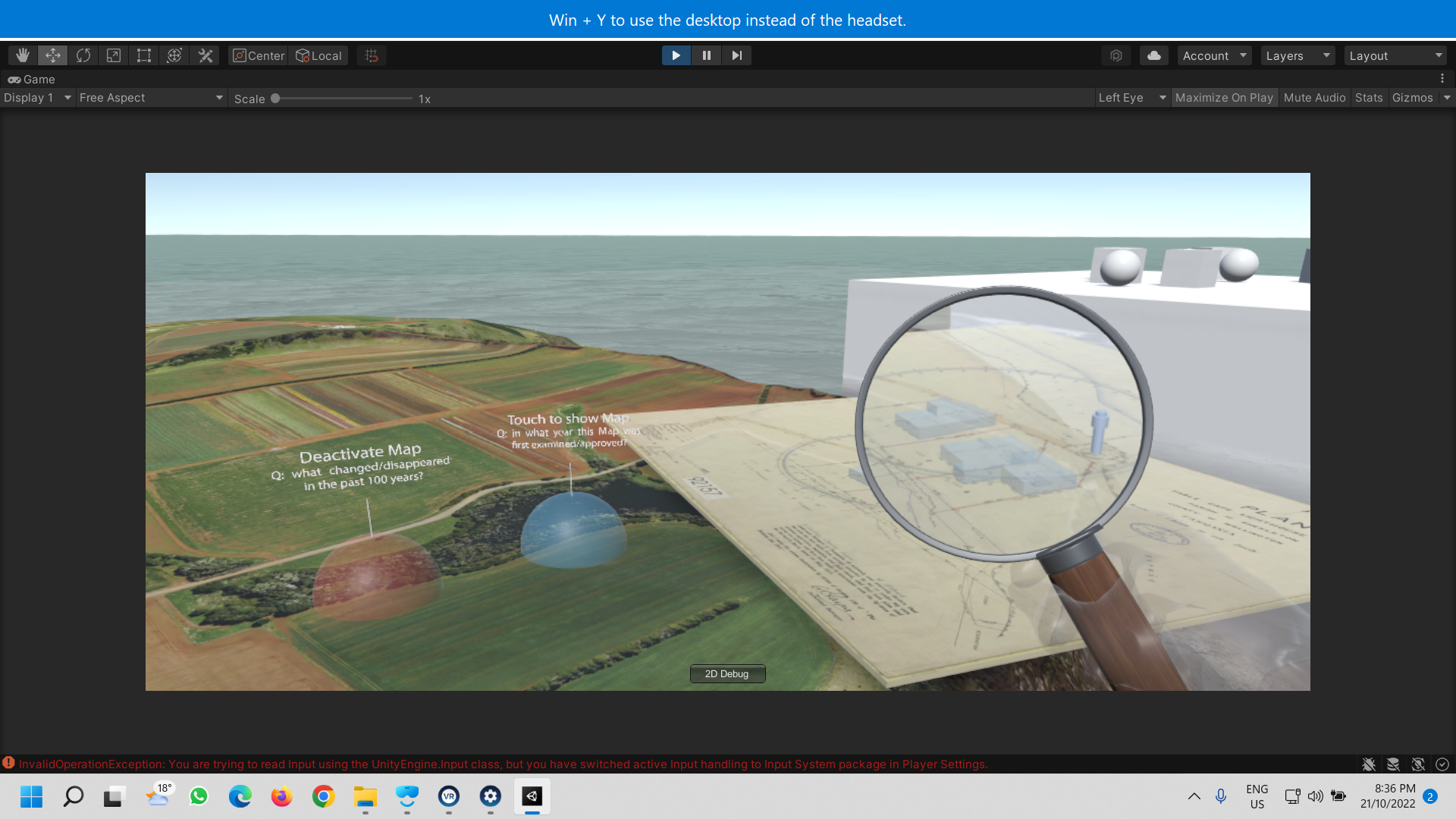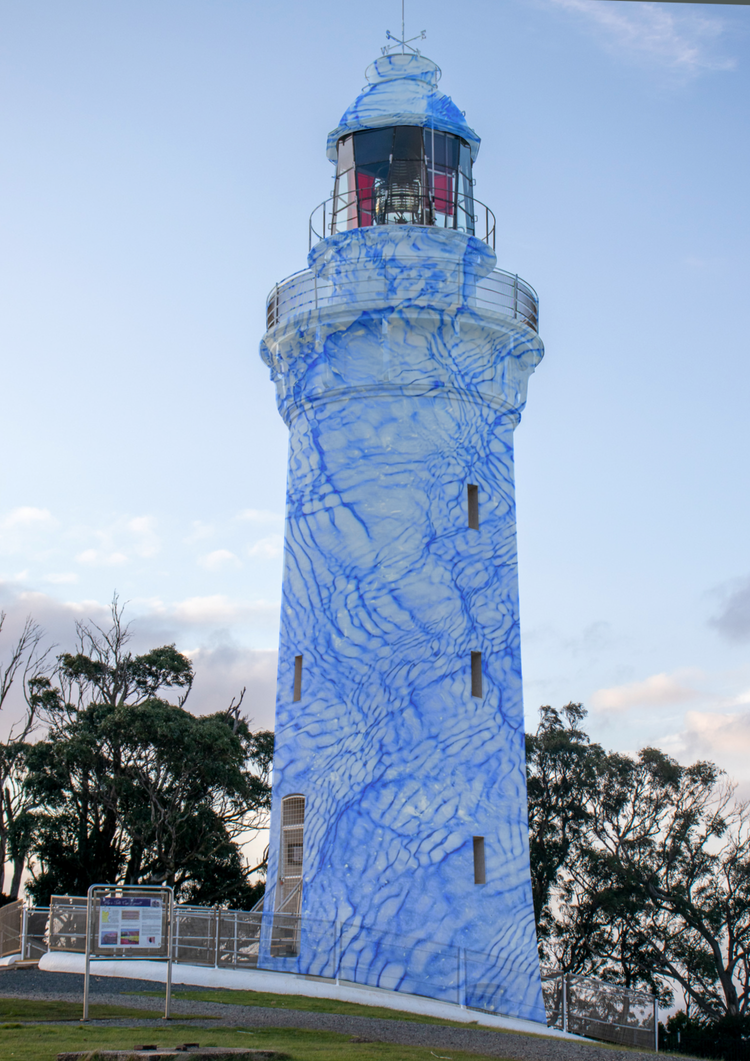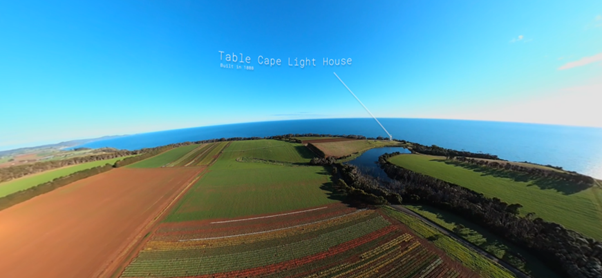 Sensing Table Cape: Seeing, Hearing, Feeling Table Cape has been designed to provide novel sensory exploration and understanding of Table Cape, beyond the tulips in October. This project aims to encourage locals and visitors alike to experience Table Cape across a broad sensory field in ways that are not humanly possible. It is envisioned that the tourism assets created as part of this project will support increased tourism visitation to the Northwest coast, which typically experiences less tourism visitation than other parts of the state, particularly in Autumn and Winter months. The equipment and software purchased as part of this grant will provide an ongoing platform for local artists and students to develop digital skills and capabilities to continue development of creative content that showcases the region in unique and novel ways. The project, launched 7 October 2021, has been made possible with the generous support from the Austrade Regional Recovery Grant funds in 2021. Sensing Table Cape offers a self-guided sound walk experience, interactive virtual reality journeys, a projection mapped lightshow on the Table Cape Lighthouse and a self-curated digital touch exploration of local content streams to support discovery of Table Cape, its people and its surrounds. The experiences will be launched in Wynyard as part of the winter event OFF season over the month of July 2023.
Seeing Table Cape
Moonlight stories
Moonlight Stories provides a visual platform of winter projections of artwork under the moonlight and the stars, imparting knowledge from the artist to the audience. Moonlight represents an important cultural touchstone to the local North West tribe the Tommeginner, who travelled seasonally across the Northwest, including Table Cape. The full moon represented a time for Tommeginner people to gather, share food, stories and knowledge around firelight. Moonlight Stories provides us an opportunity to connect to a similar experience, an opportunity to learn, and share stories and knowledge around a different kind of light, but still under moonlight.
tunapri
The first artist to present a projected artwork for this year will be Caleb Nichols-Mansell. Caleb presents a projected artwork, tunapri, with an accompanying soundscape that responds to place through the vision, creativity and voice of a contemporary Tasmanian Aboriginal artist. Projected visuals in the form of original paintings, drawings, digital illustration will tell the story of country. The deep time connections of a culture and community who are connected to place, people and time will come together to honour those who have gone before and look forward to the future.
The aim of this work is to provide an opportunity for the audience to take an intimate journey into the hearts and minds of the Tasmanian Aboriginal community while also reflecting on our shared histories and connections. tunapri is a Palawa Kani language word that loosely translates to 'knowledge' and encompasses the intentions and concept behind the work. It can be interpreted as knowledge of country, knowledge of community, knowledge of culture or knowledge of self. Ultimately, we are sharing our knowledge of place and people.
Other information about this work:
This project has been produced by Ten Days on The Island with contributions from the following creative team:
Produced by Sally Richardson & Christian Storan
Creative Direction by Caleb Nichols-Mansell
Elder & Cultural Oversight by Auntie Erica Maynard
Artwork by Caleb Nichols-Mansell
Projection Mapping by Darryl Rogers
Sound Design by Isaac Rogers
This 2023 season for moonlight stories is from July 1 to July 30th. This is a ticketed event as numbers are strictly limited per session to ensure the safety of all patrons.
Table Cape Glass Elevator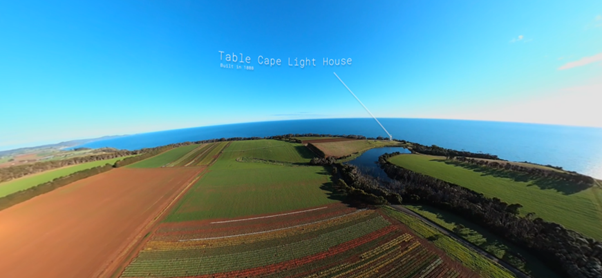 This fully immersive 360-degree Virtual Reality headset visual experience takes the viewer on a 'glass elevator' ride, flying over Table Cape during tulip season. Splendid views over the tulips, out past the edge of the cape, over Fossil Bluff and back allow viewers to experience Table Cape in ways that are not humanly possible. Key points of interest are marked out in the journey as the viewer glides over the landscape accompanied by an evocative soundtrack composed by local musician and artist Michael Cannon. The viewer has full control over what they wish to look at on the journey – they can look in any direction to enrich their experience of Table Cape.
Other information:
The 360-degree drone footage was filmed by Jeremy Gralton from Taz Drones, directed and edited by Mason Doherty, local photographer and artist. Music, 'Where Falcons Soar' ©2023, Composed, arranged and performed by Michael Cannon. Edited, mixed and produced by Michael Cannon. tigerdreaming.com.au Piano by Julie Swain. Violin by Tarryn Kille. Announcements by Cyndia Hilliger. 
This a FREE experience that is at the Wonders of Wynyard in the Wynyard Information Centre. Check out their website for details on opening times.
Hearing [table cape]
The existing walk between the Table Cape lookout and the lighthouse has been enhanced with a geolocation triggered sound walk. Rachel Meyers, a renowned Tasmanian sound artist, composer and musician, has a passion for listening deeply to the land, allowing her to capture the sound of this ancient geological structure, Table Cape, in ways that are not humanly possible.
Rachel has combined these "listenings" of Table Cape and its surrounds with an original composition she has made for this project to create a multi-sensory walk that takes in the views, flora and fauna of Table Cape. Rachel's soundtrack, divined and inspired from the geology and surrounds itself is accessed through a downloadable app for a mobile device that tracks your location on the walk and triggers the soundscape as you wander into specific geolocated parts of the walk. It is best enjoyed with headphones but can be played through your device's speakers. The walk starts at the Table Cape lookout car park, and the QR code for the app can be downloaded there onto your device. The sound walk takes approximately 30 minutes one way, taking your time to enjoy the sensory experience. It is free of charge available at any time. The Sound Walk will be available for download in July 2023.
Other information:
Artist and Composer: Rachel Meyers
Audio Engineer: Luke Plumb
Feeling [table cape]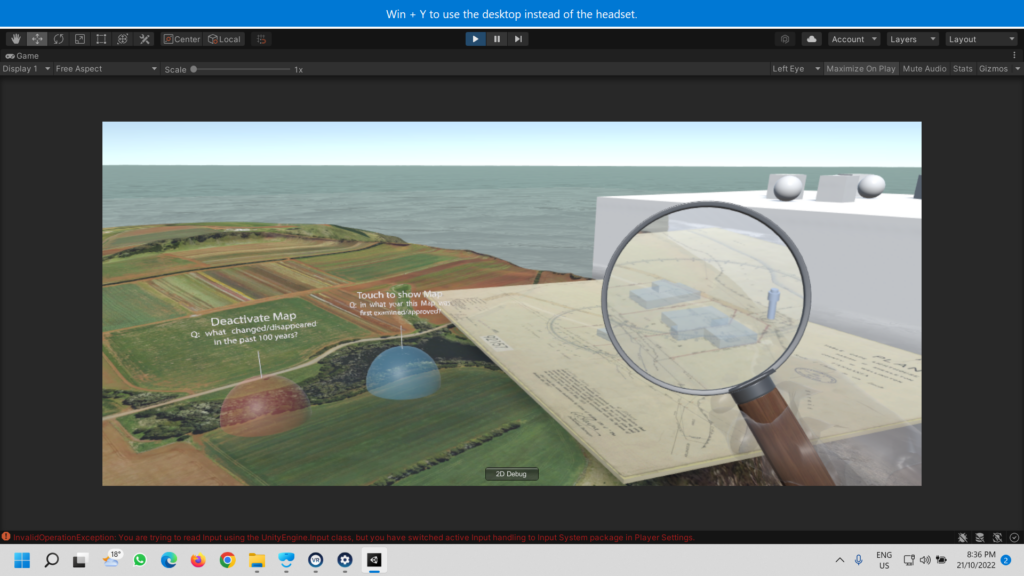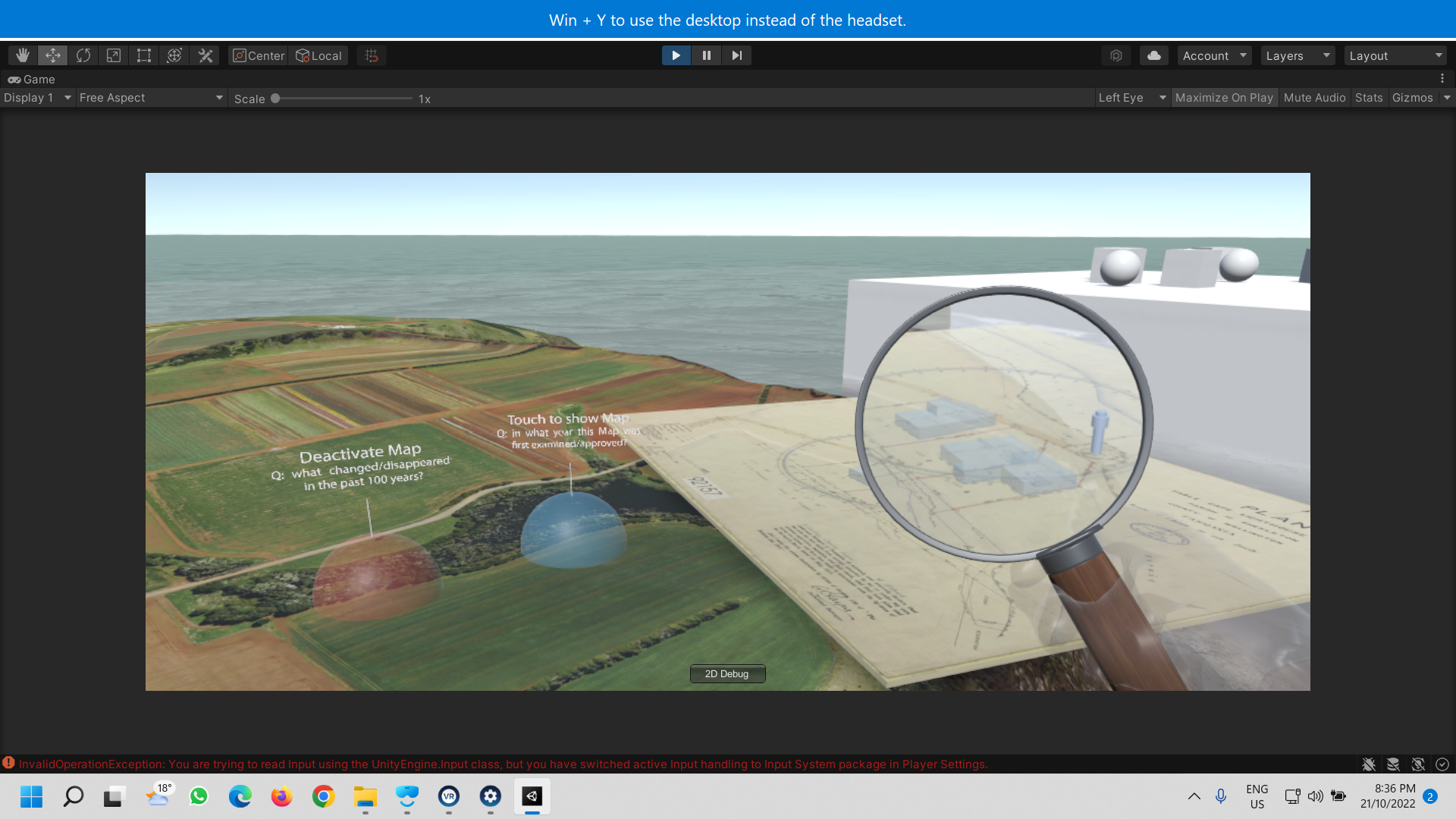 This part of the Sensing Table Cape project is a collaboration with University of Tasmania, exploring the use of Virtual Reality to create a 3-Dimensional rendering of Table Cape itself.
Educational digital technology-based virtual reality (VR) simulation learning and placemaking initiative 'Walking with Giants' supports users to experience virtual content in an accessible and inclusive environment. The virtual reality explorer is able to stand above Table Cape and, from a giant's perspective, survey a digital rendering of the cape and a variety of objects that invite the traveller to explore the cape further. Picking up an object using virtual reality hands allows the traveller to learn more about the geology of the cape, the tulips and a brief history of the people who lived on the cape over time.
Other information about this project:
Jean-Luc Schmid: Photogrammetry and 3D Specialisation
Kaitlyn Dierikx: Design thinking and computational Thinking, and system testing
A/Prof Greg Oates: Scholarly Research and Engagement
Dr David Hicks: Future Human-Computer-Interaction usability/UX/UI study (which comes later for data analysis)
This is a FREE experience that is at the Wonders of Wynyard in the Wynyard Information Centre. Check out their website for details on opening times.
Table Cape Table
This part of Sensing Table Cape introduces tactile elements of exploration of content in more detail using cutting edge object recognition software combined with touch tables. Visitors can pick up a lighthouse object and place this on the digital table to reveal a wealth of information about the lighthouse, its construction, history and historical information about community life on Table Cape and at the lighthouse.
A tulip in a pot reveals information about the process of tulip farming. A rock reveals the hidden geology of Fossil Bluff and Table Cape. Piqued curiosity guides the user to navigate and curate their own content exploration. Additionally, there are interactive games, photographic collections and video-based content accessed through touch-sensitive interactive screens. This content provides a wealth of local information, stories and journeys into the hearts and minds of locals through their stories and creative endeavours.
Other information about this project:
Geology enthusiast: Jo Crothers
Edible native plants enthusiast: Rees Campbell
Passionate tulip bulb grower and Table Cape farmer: David Roberts-Thomson
Filmed and edited by Mason Doherty
Digital content development and art direction: Cyndia Hilliger
This is a FREE experience that is at the Wonders of Wynyard in the Wynyard Information Centre. Check out their website for details on opening times.
Project Funding and Partners
This project was launched 7 October 2021 and has been made possible with the generous support from the Austrade Regional Recovery Grant funds in 2021. With our project partners WxNW and with support from the State Growth of Tasmania, we have been able to bring to life an important contribution to the local tourism offering on the Northwest Coast of Tasmania. Importantly, this project has brought together a wide community of people from business, the arts, local historians, STEM education and tourism businesses, all who have had a hand in making this project possible. Most importantly, the grant used to create this project has enabled us to purchase the software, hardware and technical kits to support continued content development and digital literacy skills, particularly in the VR space. We hope this project inspires the next generation of tourism/creatives/educators/businesses as much as it has inspired us.